Secure land ownership and rights of utilisation for natural resources are an important prerequisite for sustainable development. Large portions of the rural population depend on access to and usage of land for securing food supplies. Denied or insecure access often results in poverty and hunger. However, as a resource land is both an agricultural asset and profitable investment capital. Competition and conflicts over farmland are commonplace. This particularly affects groups with informal land rights. Only around ten per cent of farmland in Africa is officially registered. SEWOH supports recognition of traditional land rights and strengthening land rights of marginalised groups, such as women and indigenous communities. Coupled with promoting responsible use of land as an essential resource, the initiative contributes to laying the groundwork for sustainable future development. Beyond that, SEWOH aids these efforts in Africa across national borders by encouraging sustainable land policies through the African Union.
PROJECT I UGANDA
Social security and peace thanks to clear land ownership rights
The Ugandan experience illustrates the importance of clearly defined land rights. Over 80 per cent of pending court cases in Uganda are about land disputes. The country's violent past, a rapidly growing population and the impacts of climate change will likely lead to an increasing number of conflicts over land and land rights in the future. Because of the prevalence of traditional structures, women and marginalised groups are at a particular disadvantage. Milly Namyenya's family has owned land for generations. When she inherited land from her father and tried to register it in equal shares, together with other heirs, violent clashes erupted with tenant farmers who lived on the land and grew their crops there. They threatened Milly and her family – the rightful landowners – with violence, causing them to drop the registration procedure. Time and again, Namyenya tried to start a peaceful dialogue with her tenant farmers, but to no avail. Educational campaigns initiated in her village finally led to a breakthrough. The farmers contacted her and made peace with her and her family. "I am now a proud landowner", the 65-year-old beams, and happily describes the relationship she now has with her tenants. Today, Milly maintains close contact with them and knows the dimensions of her plot of land. She was able to use the income from the leases to finance the construction of her house.
According to a World Bank study from 2015, three quarters of the world's population lack formal and legally secured land rights. Oral agreements or traditional entitlements are the norm.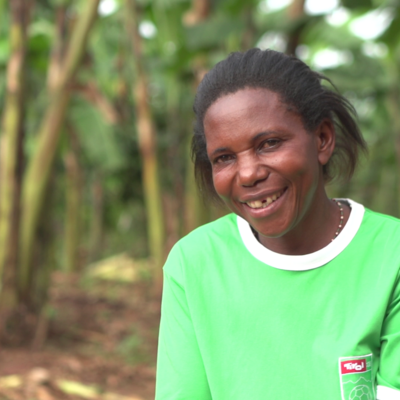 " After I registered my land, the relationship with my tenant farmers improved greatly."
MILLY NAMYENYA
lives in central Uganda where the former protectorate government introduced the mailo land tenure form. Raising awareness and conflict resolution helped her to peacefully resolve the conflict with her tenants.
PROJECT I DEUTSCHE WELTHUNGERHILFE I ETHIOPIA I BURKINA FASO I LIBERIA I SIERRA LEONE
Multi-stakeholder platforms boost land rights for farming families
For generations, millions of smallholder families around the world have been farming their land without recognised or formalised acknowledged rights to that land. Other stakeholders are increasingly interested in this sort of land: to use it for large development projects, large-scale agricultural production or growing cities. How can different interests be reconciled with one another, and how can political frameworks be shaped that comply with international human rights-based standards?
PROJECT I DEUTSCHE WELTHUNGERHILFE I ETHIOPIA I BURKINA FASO I LIBERIA I SIERRA LEONE
In Ethiopia, Burkina Faso, Liberia and Sierra Leone, Germany's Welthungerhilfe supports partner organisations in the process of setting up and strengthening Multi-Actor-Partnerships (MAPs) for good land governance. These MAPs serve as spaces for collective dialogue and collaboration between representatives from ministries, civil society organisations, businesses and other relevant stakeholders. A key concern is the meaningful participation of legitimate rural landowners and users – including women and young people. "With striking similarities in all countries, MAPs promote relationships of openness and trust", an external evaluation stated in late 2019. The platforms can lead to joint successes, for example in Liberia, where a new land law for the first time ever protects the collective land rights of rural communities and ensures equal land access for women.
IMPACT OF SEWOH I ACCESS TO LAND
At least 175,000 smallholder farmers' families have secured land rights.